As the business world becomes increasingly competitive, companies are turning to artificial intelligence (AI) to help them stay ahead of the curve.  And one area where AI is having a particularly significant impact is in sales.
One of the biggest challenges facing sales teams today is keeping up with the sheer volume of data that they need to process.  From tracking leads and customer interactions to analyzing market trends and forecasting future sales, there is a lot to keep track of.  And with so much data to sift through, it can be difficult to identify the most valuable insights.
That is where AI comes in.  By automating repetitive tasks such as data entry and lead generation, AI frees up sales teams to focus on the activities that really matter, like closing deals and building relationships.  And by providing valuable insights through data analysis and predictive modeling, AI can help sales teams identify new opportunities, optimize pricing strategies, and predict which deals are most likely to close.
One of the most popular AI-powered sales tools is the chatbot.  These AI-driven programs can handle initial customer inquiries and provide personalized recommendations. By automating the initial stages of customer engagement, chatbots can help sales teams reach more prospects and close more deals.
AI can also assist sales teams in identifying key decision makers and influencers within target accounts.  By analyzing social media data and other publicly available information, AI can help sales teams understand the dynamics of a particular account and identify the individuals who are most likely to influence the buying decision.
Another area where AI is making a significant impact is in pricing strategy.  By analyzing historical data and market trends, AI can help sales teams identify the ideal price for a particular product or service.  This can help companies maximize their revenue while remaining competitive.
In Conclusion
In conclusion, AI is revolutionizing the way sales teams operate.  By automating repetitive tasks and providing valuable insights, AI is helping sales teams to close more deals, reach more prospects and increase revenue.  Companies that invest in AI are sure to see a return on their investment in the form of improved sales and increased market share.
This article was written in collaboration with and the help of ChatGPT.  Image created with DALL-E, an AI system by OpenAI, by Stephen x DALL-E.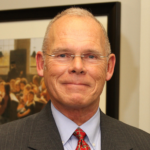 Stephen Howell is a multifaceted expert with a wealth of experience in technology, business management, and development. He is the innovative mind behind the cutting-edge Chatbot ChatGPT plugin for WordPress. Utilizing the robust capabilities of OpenAI's API, this conversational chatbot can dramatically enhance your website's user engagement. Visit Chatbot ChatGPT to explore how to elevate your visitors' experience, and stay connected with his latest advancements and offerings in the WordPress community.