Sales is the basic building block of any business.  Its pursuit may be traced back centuries, with merchants and traders maneuvering for leverage throughout history.  Over time, strategies and tactics have metamorphosed in fascinating ways.  Today, outbound prospecting is the heartbeat of successful businesses.  But what truly catalyzes a "yes" in this terrain?
Going back to 1971, Chris Voss, a noted FBI hostage negotiator and author of "Never Split The Difference," reiterated the profound role of negotiation in all facets of life, including sales.  His approach was starkly different, empathetic, and transformative, emphasizing active listening, tactical empathy, and calibrated questions.  Voss's techniques, as enshrined in his bestselling book, hinted at a departure from the traditional sales scripts for cold calls and mass mailings.
Fast forward to the late '90s, to the time of Aaron Ross and his bestseller "Predictable Revenue."  Ross introduced the concept of outbound prospecting and revolutionized sales with a strategy that Salesforce later adopted, contributing significantly to their revenue growth.  Ross emphasized the separation of prospecting from other sales functions, creating a specialized team focused solely on generating leads.  His formula rested on the precision of customer segmentation, crafting personalized messages, and nurturing customer relationships over time.
A trend began to emerge, away from the transactional nature of sales towards building meaningful connections with customers.  It was not just about selling a product or service; it was about understanding customer needs and offering solutions – solving customer problems, even ones that they didn't know they had.
Flash forward to recent years, and we see this trend proliferating.  Outbound prospecting has embraced technology, with platforms like LinkedIn and ZoomInfo.  Sales enablement platforms like Outreach and Salesloft enable targeted lead generation and nurturing all the while managing the communication cadence and pace across the multiple channels of phone, text, email, and social.   However, despite all this technology, securing the coveted "yes" still relies on the basic human connection – the human element (Hu).
So, what brings a potential customer to "yes" when outbound prospecting?
Empathetic Listening?
Personalized Messaging?
Customer-Centric Solutions?
Nurturing Relationships over Transactions?
While technology has streamlined the sales process and improved overall efficiency, salespeople remain the critical drivers of success.  Technology alone isn't enough.  Human interaction brings warmth, trust, and authenticity to the sales process.  A sales script is not always the answer.  Salespeople who can depart from the script, when necessary, who can genuinely engage with prospects, are the ones who often secure that "yes".
The best salespeople aren't just listening for the obvious cues; they're tuning into emotions, the underlying needs, and pain points.  They're not just pushing a product or service; they're demonstrating its value, painting a picture of how it can resolve the customer's issues – sometimes problems they don't even realize they need to solve for.  They are relationship builders, not transactional machines.
CRMs and automated email platforms have undoubtedly facilitated outbound prospecting.  Still, they can't replace the human touch.  Algorithms can't express empathy or react instinctively to a prospect's emotional state or unexpected queries.
However, organizations that can master the blend of human intuition and technological prowess can cut through the noise of outbound prospecting.  Disruptive prospectors, both human and AI-powered, can leverage data, interpret it intuitively, and apply it to build compelling narratives that resonate with potential customers.
The future might hold even more radical changes.  Imagine AI-powered salesbots (or just bots) trained in Chris Voss's negotiation techniques or instructed to emulate the charm and persuasiveness of a top-performing salesperson.  These bots could be available round the clock, defying geographical and linguistic barriers, facilitating highly tailored conversations based on deep learning algorithms matched to each and every potential prospect.
We might be on the cusp of a new era of outbound prospecting, where super intelligent AI bots equipped with human-like abilities will engage with prospects in ways that blend efficiency, empathy, and personalization.  This isn't a sci-fi prophecy.  It's the future of sales.  This new era doesn't merely represent an upgrade in technology, but a fundamental shift in how businesses connect with customers. These super bots will not only reach out to more prospects faster but also create more meaningful and personalized interactions.  The combination of efficiency and personalization will revolutionize the sales industry, making it more efficient, effective, and customer-centric than ever before.
Indeed, outbound prospecting has undergone substantial changes.  There was a time when a salesperson's success was defined by the size of their Rolodex.  The paradigm subsequently shifted to emails and cold calling when Salesforce's Marc Benioff revolutionizing the CRM landscape at the turn of the century.  Fast forward to the present day, we are now on the brink of witnessing another transformative disruption.
Just as Uber revolutionized the taxi industry and Amazon shook up retail, a new class of "disruptive prospectors" are beginning to emerge.  They're not sticking to traditional methods of outbound sales or making incremental improvements.  They are flipping the outbound prospecting game on its head and redefining the concept of what it means to "get to yes."
Is there a secret formula to their disruptive outbound prospecting?  A new tool that provides an unfair advantage?  An innovative CRM?  Perhaps.  But if we look closely, we can identify a few recurring patterns:
Prospecting scripts that do more than just sell products.
Email campaigns that inspire trust and forge strong relationships.
Social media messages that speak directly to the needs and wants of the prospects.
Personalized messaging that engages and compels the target audiences.
Innovative use of integrated tech linking CRMs and Sales Automation Platforms.
To make outbound prospecting effective, these disruptive prospectors are focusing on adding real value at each contact with prospects.  They are combining data analysis, storytelling, and empathic communication to engage with customers on a deeper, more personal level.
But the world of sales doesn't stand still.  Just when you think the art of outbound prospecting has been mastered, a new wave of change emerges.
Chatbots have already made their way into customer service, becoming a preferred channel for companies to communicate with customers.  And they are showing great promise in the realm of outbound prospecting as well.  They can be always-on, always-available automated agents who can carry out numerous conversations simultaneously, follow up diligently, and track customers with impeccable precision.
The true disruption in outbound prospecting could be the rise of a new breed of agents: AI powered agents.  These automated agents could offer personalized service to every customer, regardless of their location, language, or interests.  Imagine what these profit prospecting bots could accomplish with access to vast amounts of sales data, customer behavior data, and market trends.  These deal dynamos could anticipate customer needs, suggest products or services that customers may not even be aware of, and guide them through the buying process getting to "yes".
However, a word of caution is required here.  As we move toward a future dominated by AI, we need to be careful to avoid turning outbound prospecting into an intrusive, overbearing process.  We should remember the primary goal of outbound prospecting is to create value for customers.  Any technology that used should augment this process, not inhibit it.
Whether it's AI, automation, or some other breakthrough, the next disruptive innovation in outbound prospecting will indeed be exciting.  However, at the heart of all these advancements lies the age-old principle of selling – understanding the customer's problem and providing a solution.
In the end, getting to "yes" in outbound prospecting will always be about people.  It will be about understanding their needs, empathizing with their challenges, and providing real value.  And that's one aspect of sales that no amount of disruption can change.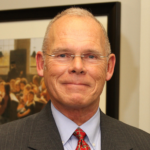 Stephen Howell is a multifaceted expert with a wealth of experience in technology, business management, and development. He is the innovative mind behind the cutting-edge Chatbot ChatGPT plugin for WordPress. Utilizing the robust capabilities of OpenAI's API, this conversational chatbot can dramatically enhance your website's user engagement. Visit Chatbot ChatGPT to explore how to elevate your visitors' experience, and stay connected with his latest advancements and offerings in the WordPress community.